GOES GmbH - Wireline Units
Wireline Units are customized for both cased hole slickline and logging as well as open hole logging applications. Available in different carrier types, such as truck, trailer or skid mounted.
GOES Units can be customized with various configurations and flexible designs which ensure the units can be used for all kind of operation environment (from arctic, desert & offshore) and for all types of operation.
Since customer's and end user's convenience is our top priority, GOES engineering gave a high attention to the interiors of the units, adding to the high-quality functionality of the unit, a new dimension of comfort and enjoyment.
The units can be powered by various means, diesel, electric engines or PTO configured to reach the desired HP rating. Our integrated control console includes a combination of pneumatic, hydraulic and electrical devices.
GOES 'fit-for-purpose' Wireline Units are characterized by their bespoke, high efficiency and ease of maintenance. The configurations of operator cabins, winch models and pressure control panels are also flexible to be customized.
Suitable for cased hole slickline and logging or open hole units configurations

Meets zoning and DNV requirements in various locations

Built to European standards (optional)

Truck, trailer or skid mounted, with or without crane

Power take-off "PTO", electric driven or various diesel engine configurations in order to reach the desired HP rating (optional hybrid power supply)

Emergency shutdown

Dual drum cased hole winch or single drum CH/OH logging winch

Hydraulic power consists of both closed & open loop systems

Heavy duty chain driven winch with drip pan

Various drum configurations, Single, Dual and Split drums range from 0.092" to 17/32" wire and cable sizes

Single brake bands for CH slickline winch or Dual wide brake bands, one on each side of the drums on CH/OH logging winch

Various control cabin configurations

Integrated Pressure Control Equipment (PCE)

External Power Supply Connection for "Rig supply"

Integrated 12 or 20 kVA hydraulic power generator, 400V 50Hz or 110V 60 Hz (optional)

Openable window with safety glass between Operator Compartment and Winch Compartment

Solid sliding roof above entire Winch Compartment for drum access and elevated view of the well site

Bottom (belly) storage compartments with doors that are lockable types on both sides of the Cabin for the storage of tools, stuffing box, rope blocks, large wrenches, stems, jars, running/pulling tools etc.

Rear access Winch Compartment underfloor tool/lubricator storage compartment

Lubricator racks

Hose reels for BOP & stuffing box

Grounding system (ground rod and cable)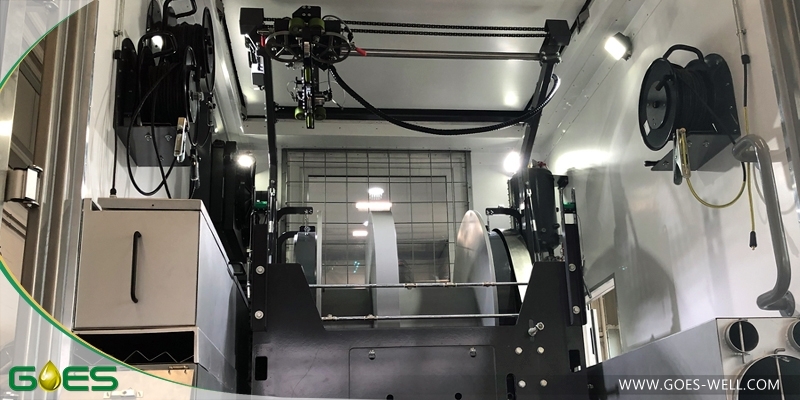 Wireline Units - Categories
Wireline Units can be manufactured in various configurations, therefore there not a standard way to categorize them. For example, Wireline Combi Units can be used as well for Slickline only, it depends on client request.
All our Slickline Units can run drums with 700mm outer diameter and because of this, one can categorize them as Slickline units, while one another can categorize them as Cased Hole Logging Units for up to 1/4″ cable.
CLIENT CUSTOMIZATION
We will use the below simplified system to categorize the Wireline Units that we are manufacturing in Celle, Germany, but please keep in mind that these can be customized as per client request! 
THE CLIENT CAN CHOSE A MORE DETAILED CLASIFICATION