Support Pumping Unit Skid Mounted
GOES Mud pumps are designed for Maximum Mobility.
Skid Mounted

Diesel deck engine / various HP ratings

Various transmissions

High pressure triplex or quintuplex pumps

Radiator complete with hydraulic thermostatically controlled fan

Built to European standards (optional)

CE Conformity (optional)

DNV certified (optional)

Remote control for added safety and communication (optional)

Hydraulic, electric or air start

Electrical heating system powered by hydraulic generator (optional)

Engine pre-heaters for extreme conditions

Over-pressure safety device

Suction manifold suitable for CO2 Service

Various pump manifold configurations

Suction or discharge dampener

Various options for fuel capacity

Various sized tanks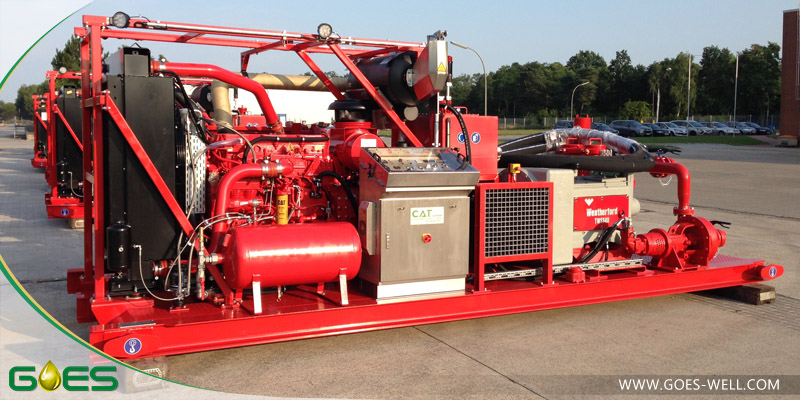 Support of different tzpes of well service interventions and drilling for high pressure pumpoing or fluid circulation

Used for highßpressure liquid carbon dioxide pumping, acidizing, cementing operations, pressure testing, etc.

Utilized for extreme climates from arctic to desert and tropical conditions.