FRAC FLEET AT TEST - OILFIELD EQUIPMENT MANUFACTURED BY GOES
SLICKLINE TRAILER - OILFIELD EQUIPMENT MANUFACTURED BY GOES
In the end of November, our Wireline team from Celle finished a 6.0M Wireline Truck for "Schulze Druckmessungen" in Germany.
Single drum Wireline winch

High performance closed loop hydraulic drive

Straight line counterhead

Digital winch operator panel

Surface logging equipment 19" computer rack

Center tool rack for

Grease injection pump

Stuffing box pump

12 kVA integrated hydraulic driven generator

Air Condition

Rig energy supply connection

Chassis: MAN TGL 12.250 (12 tons mgw, 250 hp)
The main purpose of the unit will be cased hole wireline service with single conductor cable for high definition down hole pressure measurements mainly in Western Europe.
The final acceptance test was performed at one test well near Celle, in Germany.
The unit is designed for cable jobs up to 1/4 in cable and is driven by a closed loop hydraulic drive via the truck engine power take off.
WIRELINE UNIT DESIGNED FOR PRESSURE MEASURING
OILFIELD EQUIPMENT REFURBISHMENT
KEEP YOUR OLD EQUIPMENT COMPETITIVE !
After a few years of activity or a few thousands of working hours, you will notice that the Equipment with which you have worked day by day, is not perform as in the beginning, when you first purchase it. It is normal, some of its main components ended their life cycle or their performances drastically drop.
GOES GmbH can help bringing back your used Equipment to its initial performances! Write us an email at info@goes-well.com and let us know what equipment needs to be refurbish.
No matter if you need a Frac Pump, Blender, Nitrogen, Chemical Unit or any other Oilfield Service Equipment, GOES has the upgrading solution.
TWIN PUMP TRAILER MANUFACTURED BY GOES FOR NESR
GOES GmbH delivered another two Twin Pump Trailers to our valued customer NESR in KSA.

The Units are equipped with Caterpillar C15 engines, Allison OFS 4700 Transmissions and SPM TWS 600S HD pumps.
In addition, the GOES DMS Data Acquisition System records real-time values from operations and creates easily job reports.
Twin Pump Trailer - Video Presentation
FRAC FLEET MANUFACTURED FOR PEWETE EVO SERVICES LLC IN OMAN
LIQUID ADDITIVE SYSTEM - SKID MOUNTED
After a remote FAT was done at our testing facilities, 
GOES GmbH
 delivered a 

Liquid

 

Additive

 Skid to a South East European Customer. This unit will be used during 

hydraulic

 

fracturing

 operations.
This small LA Skid is equipped with 4 diaphragm style 

pumps

 for standard chemicals and one hose pump for viscous materials. All pumps come with Coriolis flowmeters.
A transport basket is included to carry the required hoses.
The skid comes with a remote control that can be installed in any 

Data

 

Van

. The 

Prime

 DMS 

Data

 

Acquisition

 

System

 is capable to import pump rates from a blender or C-pump which allows it to be fully process controlled. Besides this it is capable to import pressure pumping signals, so for many fracs it is all that is needed to meter chemicals on the fly, and record and display all pumping parameters.
It is specially designed for easy shipment to remote locations.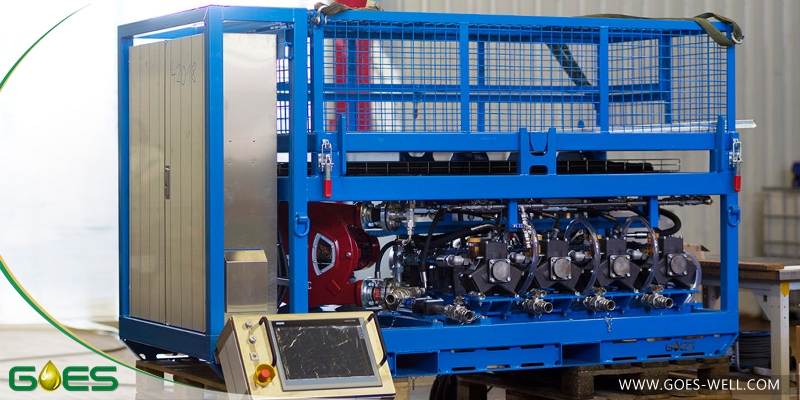 SINGLE DRUM WIRELINE UNIT - ELECRIC DRIVEN WIRELINE UNIT
COILED TUBING UNIT PRESENTATION
COILED TUBING UNIT - PACKAGE 2020
This week 

GOES

 is shipping a Coiled Tubing Package for a valued customer to Oman. The package consists of one Coiled Tubing Unit, one Twin Pump, one 180k N2 Unit, one Batch Mixer and one Yard Spooler.
The CTU is dressed for 2" operations and comes with a Coil Solution 80k Injector and a NEXUS 4 1/16" BOP. All main units are equipped with Prime DMS and are suitable for desert operations.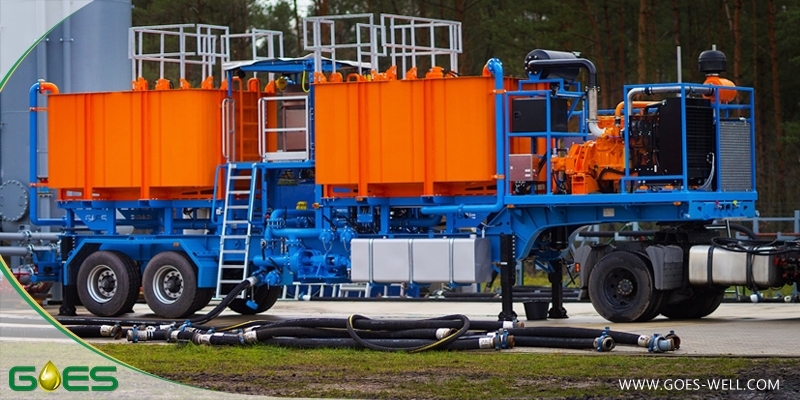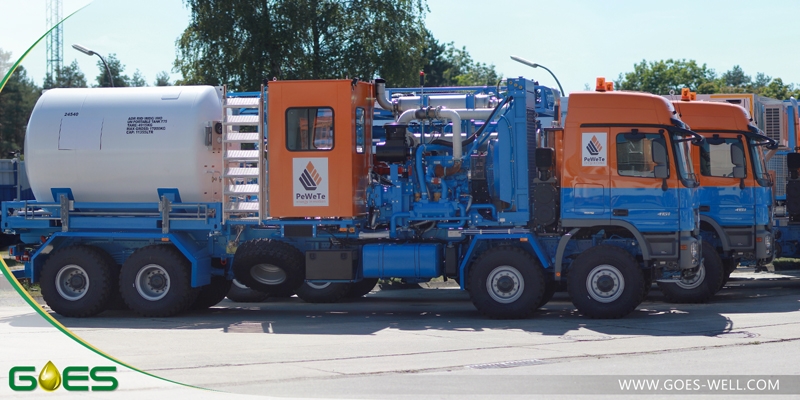 GOES IS PARTICIPATING AT ADIPEC
GOES will be participating at The Abu Dhabi International Petroleum Exhibition and Conference (ADIPEC)
Abu Dhabi, UAE
November 11-14, 2019
Stand 8736, Hall 8 (German Pavilion).
GOES IS PARTICIPATING AT IGC TURKEY 2019
Between 6-8 November 2019, GOES will be participating at the 4th International Geothermal Congress and Exhibition which will be held in Izmir, Turkey!
WIRELINE LOGGING UNIT DELIVERED
GOES WIRELINE LOGGING UNIT
Wireline Logging Unit mounted on Mercedes Actros started today its journey to Moscow´s NEFTEGAZ 2019 for being presented to our valued customers and all interested visitors!
The unit comes with a AM5K Benchmark measuring head, Stimline XOS controls and IDEX software. We will also present a Truck Mounted Frac Pump and a NEXUS BOP. We are looking forward to meeting you there!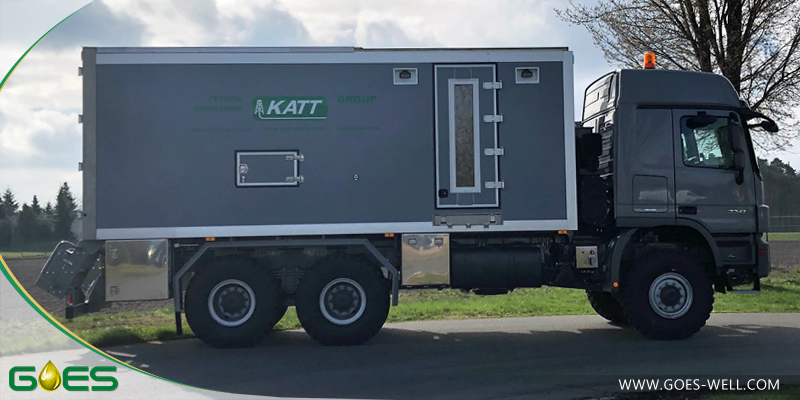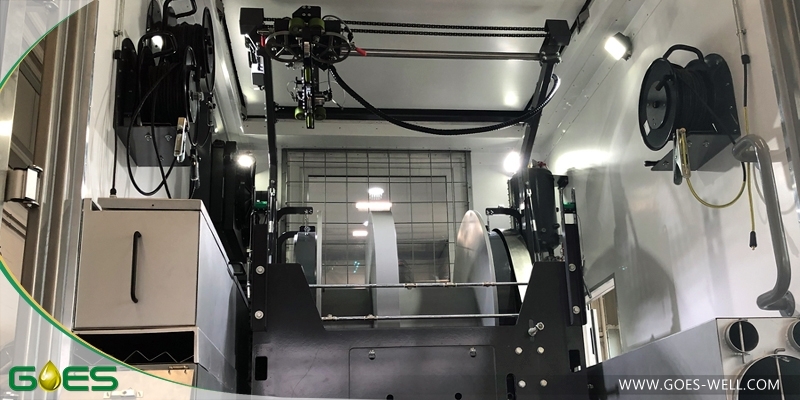 TWIN PUMPING UNIT - READY TO GO / AVAILABLE FOR SALE (UPDATE : SOLD)
The Twin Pump Unit (trailed mounted), which is made for desert conditions (+55 deg C), is equipped with two C15 engines, two Allison 4700 transmissions and two SPM TWS600 pumps.
It comes also with a stainless steel displacement tank, Gardner Denver c-pumps, pipe and swivel racks, air conditioned operator cabin and GOES/Prime DMS (Data Acquisition System). The offering is subject to prior sale.
For more information (full technical specification, please contact us.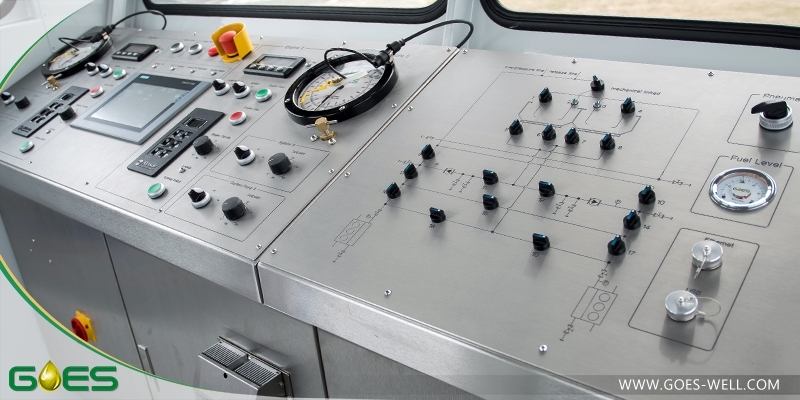 COILED TUBING UNIT FOR UKRAINE
This truck mounted Coiled Tubing Unit (Mercedes Benz 4141 8×8) is ready to go to work in Ukraine. It comes with a Coiled Tubing reel which is capable to carry up to 7.000m of 1,5″ CT string and GOES/Prime DMS.
For quick rig-up and rig-down, NEXUS stripper is directly mounted at the CSI 80k injector. NEXUS BOP and Lubricators are also mounted directly on the unit.
Operators will love it as from inside the cabin the unit looks even better. Transport height is 4m, width is 2,55m and length is 13,5m.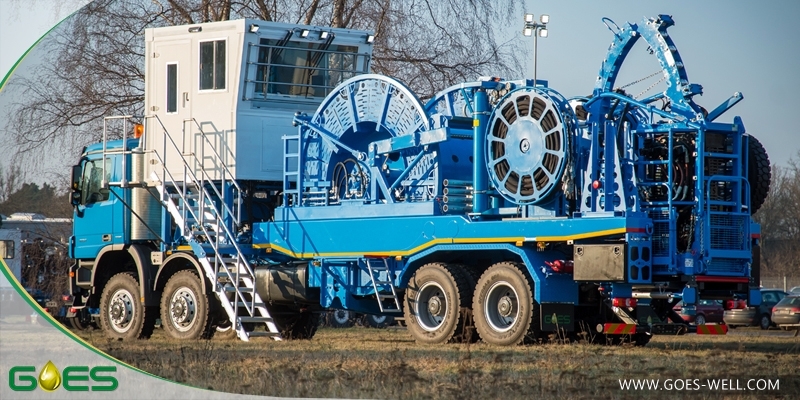 NITROGEN UNIT WITH ARCTIC KIT
Truck mounted 180k N2 Pumping Unit delivered with 3.000 gal tank.
This unit is equipped with Arctic Kit, Operator Cabin, pipe racks and GOES/Prime DMS and it was built in accordance with European road regulations (12m long, 2,55m wide and 4m high). 
TWIN PUMPING UNIT FOR NPS
Recently GOES delivered another Twin Pumping unit to its valued customer, National Petroleum Services (NPS). The unit comes with 2 C-15 engines, 2 Allison 4700 transmissions and 2 SPM TWS 600s HD pumps.
The unit is equipped with stainless steel displacement tanks and GOES DMS (our state-of-the-art Data Acquisition Software) for its work in Basra, Iraq. We also deliver two more DMS sets to upgrade 2 other NPS Twin Pumps.
We are glad to have NPS as a repeated customer. These sales are the best feedback when it comes to quality work and good after-sales service.
COILED TUBING UNIT FOR GEOTHERMAL WELLS
Last week this Coiled Tubing Unit decided to leave the rainy German autumn weather to go into sunny Turkey to stimulate some Geothermal wells.
GOES delivered this unit which holds 5.000m of 2" pipe together with a nitrogen unit, a yard spooler, a package of high temperature downhole tools, a set of HP-piping and spare parts.
This GOES CT unit is equipped with a high-temperature NEXUS BOP & Stripper and a Coil Solutions injector.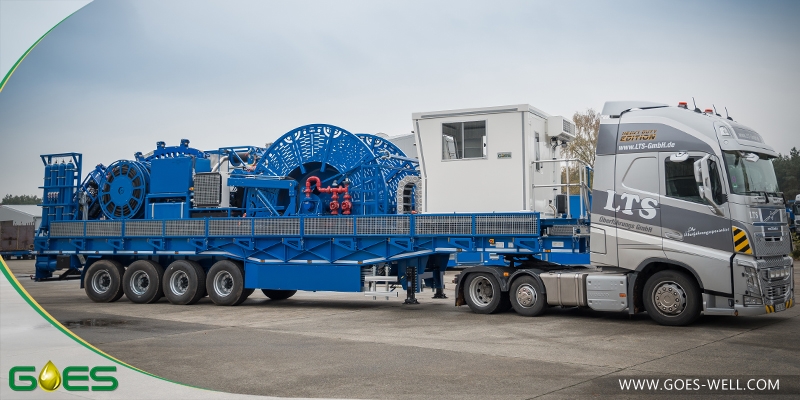 JUNE - MONTH OF THE FRAC PUMPS
June 2017 was the month of the frac pumps at GOES GmbH. Several units tested with our clients and have been shipped/ get ready for shipment.
On the pictures you will see MTU engines, Caterpillar engines as well as Caterpillar, Allison and ZF transmissions.
All designs are in place for truck, trailer and skid mounted needs.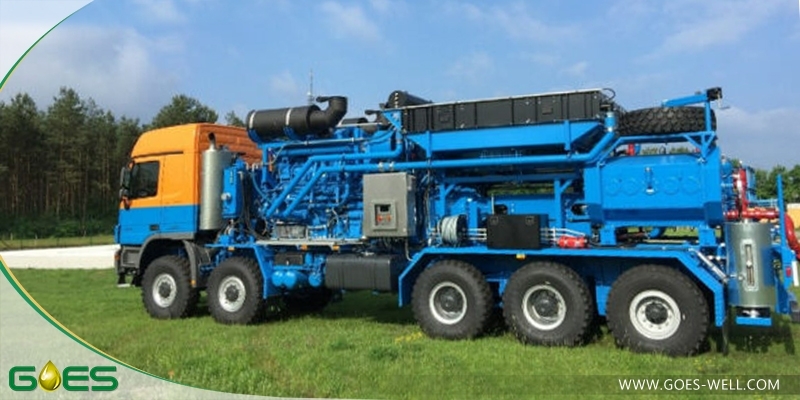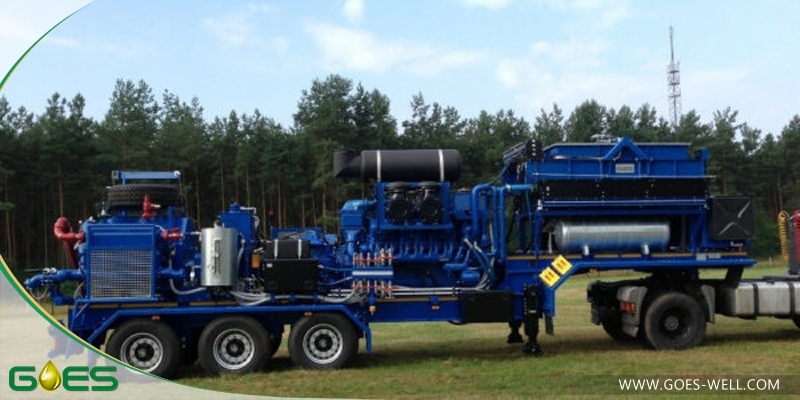 INVITATION TO THE EXHIBITION "MIOGE-2017"
We invite you to visit our booth at the 14th international exhibition "OIL & GAS" / MIOGE 2017, which will be held from 27 to 30 June 2017 in the International Exhibition Center "Crocus Expo" in Moscow.
This year we will exhibit one of our latest developments- Pumping Unit FC-2251 with a capacity of 2500 HP. The following equipment is included:
– 2,500 HPEngine MTU 12V 4000 S83L
– Transmission ZF 8TX, power 2600 HP
– Quintuplex Pump SPM QWS 2500 with 4,5" plungers
This unit is equipped with a new revolutionary transmission ZF 8TX. The transmission was developed without using a torque converter which leads "smooth shifting" without lock-up function and also to reduce the weight.
The unit is mounted on a 10×8 Mercedes Benz Actros 4141 and has a total weight of 39,250 kg. The axle load does not exceed 8 tons per axle. All other dimensions are in accordance with Russian road regulations, too.
Please feel free to meet us and to discuss your existing projects and needs, to see new developments and capabilities of our companies in the field of equipment production for the oil and gas sector.
We look forward to seeing you at our booth number В238 in hall 14.
Respectfully yours,
Rolf Bartels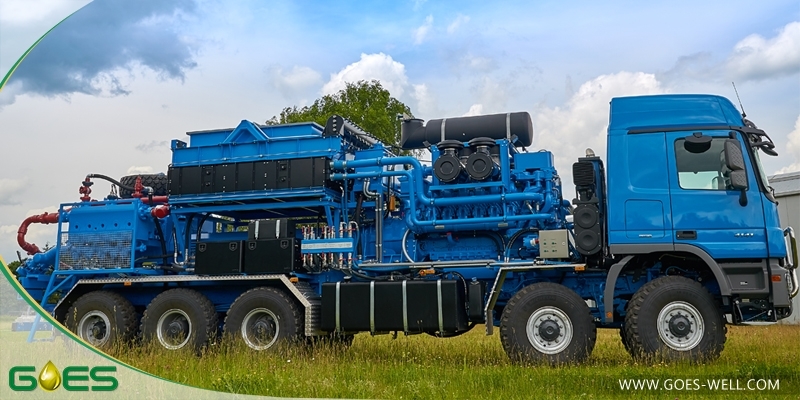 10 YEARS GOES! IN APRIL 2017, GOES CELEBRATED A COMPANY'S 10th ANNIVERSARY!
IN FEBRUARY 2017 GOES SUCCESSFULLY COMPLETED TESTING OF A NEW GENERATION HYDRATION UNIT
This Unit was developed for one of the most progressive Russian service companies and will be delivered in the near future.
The main advantage of this Unit is it's ability to safely operate with dry guar powder in "on-fly" mode. Guar powder is delivered from a 2,3 cu.m. guar tank using a twin chemical mixing system. Each chemical mixing system consists of it's own dosing auger and water injection system. In addition, this two dosing systems are able to backup each other and provide simultaneous guar powder rate. Switching between dosing system possible in automatic mode and activated only by one button.
This unit is also equipped with hydration tanks, with a recirculation system, an all weather operator's cabin and other modern features.
The New Hydration Unit is mounted on a Mercedes Benz Actros 8×8  chassis and is able to drive with full guar tanks and maintain a total axle load below 8 ton per axle.
This Unit powered by a chassis engine with an upgraded hydraulic system with very low noise levels during operation with full power.
Please contact us for more information.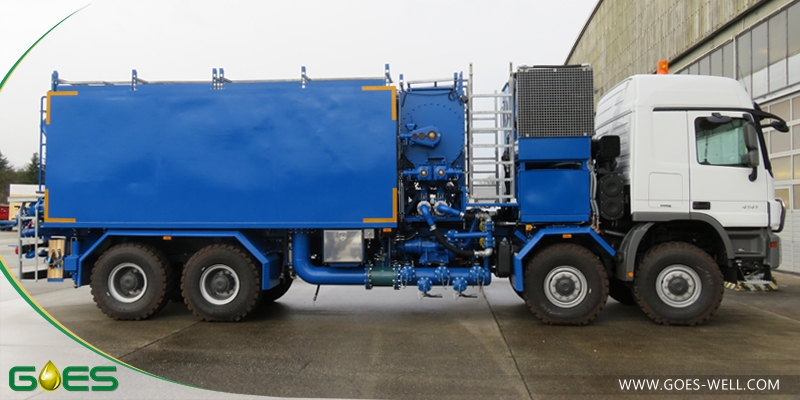 GOES DELIVERS THREE TWIN ACID PUMP TRAILER TO NATIONAL PETROLEUM SERVICES (NPS)
Recently NPS started operations with new acid pumps in Basra, Iraq.
These units are equipped with Caterpillar engines, Allison transmissions and SPM pumps. With Siemens based GOES control system and DMS (GOES Data Management System) it is an all-in-one solution for the client.
As they were the first units delivered to NPS, we maintained close contact with NPS's operation team to make sure that all their requirements were integrated into the units and our products meet their expectations.
GOES provides in-house and on-site training for our customers.
For more information about NPS's operations, please visit the NPS website (NESR).
NITROGEN UNITS DELIVERED TO EAST EUROPEAN CLIENTS
In the last month GOES GmbH delivered four Nitrogen Pump Trucks, four Nitrogen-Transport Trailers and one Nitrogen Pump Trailer to East European Clients. All deliveries were made punctually to the customer's warehouse.
The truck mounted 180k pump units come with a 2.000 GAL N2 tank and the N2 Pump Trailer comes with a 3.000 GAL tank.
All nine units have the same advantage that the pump skids and the tanks can be used on truck/trailer or can be removed easily for offshore operations.
The operator cabins can be removed to reduce the footprint even more. Please contact us for more information.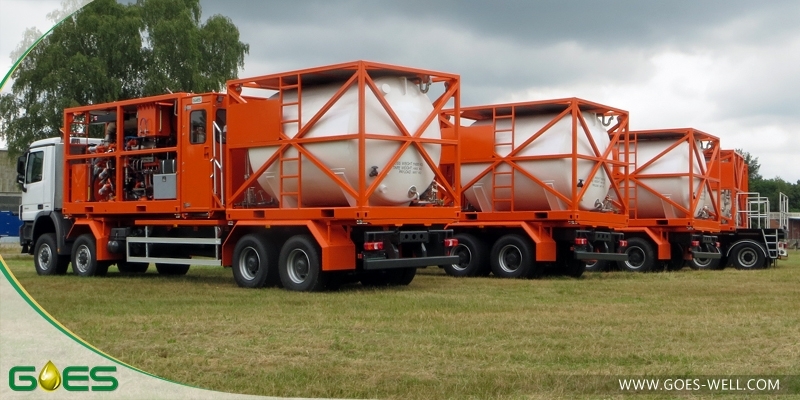 GOES GMBH DELIVERES COMPLETE FRAC FLEET TO CLIENT IN TATARSTAN, RUSSIA
Recently, GOES GmbH manufactured a frac fleet with a truck mounted frac spread consisting of 4 frac pumps, blender, data van, hot water unit, manifold truck and sand truck, and delivered it DDP, to a customer based in Russia.
The fleet was successfully commissioned and tested in Wesendorf, Germany. GOES specialists went to support and train our client during their first 10 jobs, as it was the first fracturing fleet for the Client.
All units are winterized, equipped with GOES Frac Control System and GOES Data Management System. More than 50 frac jobs have been completed within 4 months.
Photos: Fleet in Germany Prior to leaving for Russia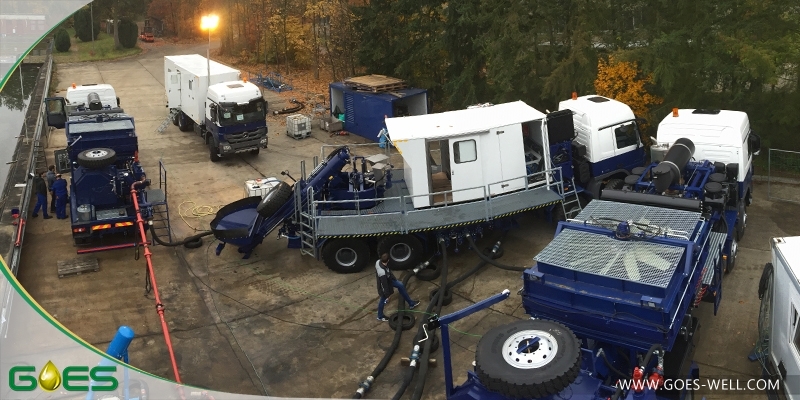 TWIN CEMENTING UNIT COMMISIONED IN AMARAH, IRAQ
The twin cementing Trailer, with ADC, was fully tested at GOES testing facilities. The client came to an intensive 3 week training course after which a GOES service engineer commissioned this unit in Amarah, Iraq. Amarah is located between Baghdad and Basra.
The unit was delivered with a MAN pull truck, extensive HP iron and a spare parts package.
The unit is powered by three Deutz engines and built with Allison 4700 transmissions and SPM TWS 600 pumps.
We wish our client smooth operations and plenty of successful jobs with their new unit.
GOES GMBH WILL ATTEND NEFTEGAZ EXHIBITION
GOES GmbH will attend the Neftegaz exhibition, Moscow, Russia, from April 18th to 21th, 2016. We herewith kindly invite you to our booth 6-50 (outdoor area) for a chat, Ratzeputz or a German sausage.
We will exhibit the following two units:
1. Coiled Tubing Unit
Mounted on Mercedes Chassis, reel capacity of 6.200m of 1.5" string,      80k Coil Solutions injector, 3 1/16" Nexus BOP, Medco DAS.
2. Frac Pump Truck
MTU 12V4000S83 engine, Allison 9823 transmission, SPM TWS 2250 triplex pump.
Both units are available for sale and come with all required paperwork for Russian road registration and arctic package.
Photos: Units at GOES facility prior to leaving for Moscow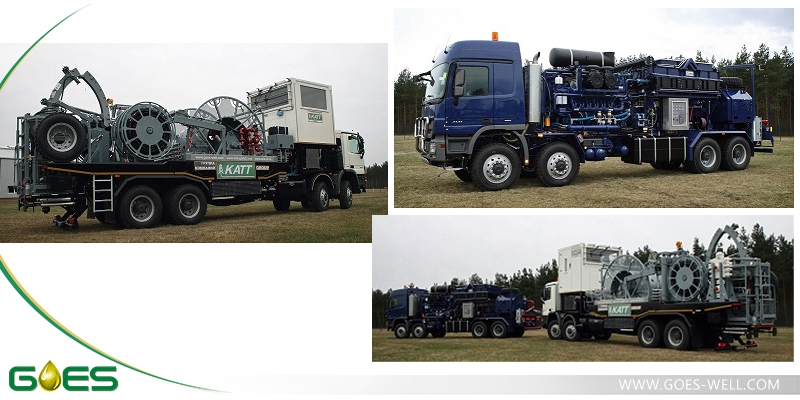 GOES GMBH DELIVERS COILED TUBING UNIT PACKAGE TO KAZAKH CLIENT
Last Friday, one Truck mounted Coiled Tubing Unit and one Multi-Purpose Pumping Unit started their journey from Germany to Kazakhstan.
The compact CTU is mounted on a Terberg 8×8 chassis with a reel capacity of 7.000m/1. 5" string. The unique design allows the operator to leave the string in the injector during transport and the stripper is connected to the 80k injector, which reduces rig up time. Additionally the BOP can be carried on the unit.
The highly efficient MPPU, Multi-Purpose Pumping Unit, is a single pump truck with stainless steel tanks and a 3.5 million BTU heater allowing the unit to be used for coiled tubing jobs, hot oiling, acidizing and various other pumping operations, which is high efficiency.
NEW DATA VAN TRAILER WITH SLIDE-OUT LAB DELIVERED TO EUROPEAN CLIENT
Last week a new Data Van Trailer left our facilities after successful customer inspection. The data van is completely manufactured as per customer requirement, CE certified and as per European road regulations. This innovative design features:
Comfortable customer meeting area

Spacious laboratory area in the slide-out section

Pump controls from GOES remote control panels. (GOES also offers field proven touch screen technology for frac pump control)

GOES DMS (Data Management System) installed for reliable data recording & monitoring

Meyers and Associates Design and Simulation software

Real Time Data transfer

Showering system installed as per E&P companies requirements in case of acid spills

And of course, comfort features like AC, coffee machine, microwave and fridge etc.
LATEST DOUBLE PUMP CEMENTING TRAILER IS READY
A fully CE certified trailer mounted double pump cementing unit is ready for delivery at GOES facility in Wesendorf, Germany.
This unit is designed and manufactured for European oilfields and fully road legal in Europe. It is equipped with two TIER 4 deck engines, which are also used to run the hydraulics to save weight and costs.
The cementing unit is equipped with a recirculating cement mixing system, cement density control system, air-conditioned operator cabin and a displacement tank. The unit can be operated from the control panel, which includes all pneumatic, electrical and hydraulic controls and instrumentations for complete operations, either in automatic or manual mode.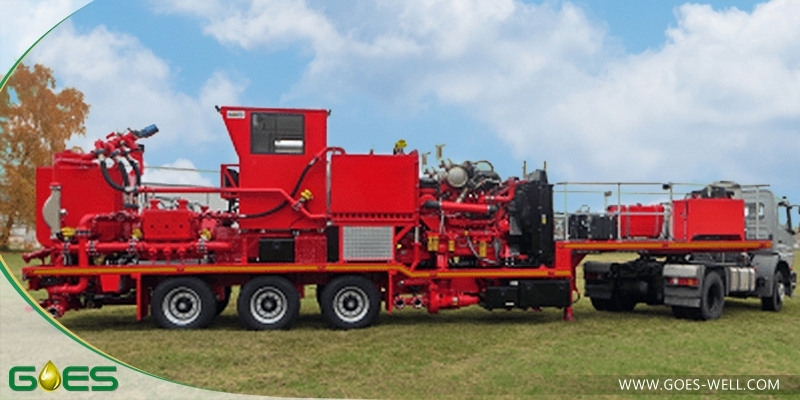 GOES GMBH RELEASED 6 AXLES TRUCK-MOUNTED COILED TUBING UNIT
6 AXLE COILED TUBING UNIT
This summer, GOES GmbH completed its most advanced one truck Coiled tubing unit. This 6 axle coiled tubing unit is a unique design. This one truck mounted CT unit carries the complete system which consists of Coiled tubing Reel, power pack, hydraulic hose reels and injector, stripper, BOP and high pressure parts. The optimally compacted design reduced two trucks into one truck.
Dimensions are as per customer request (LxWxH): 15m x 2,55m x 4,5m

This lightweight module is equipped with a thermal insulated telescopic operator's cabin with a hydraulic lifting system to limit the height during transportation while providing the operator a comfortable working environment with full view during operation.

The modified special frame and the additional axles enable the unit to carry a maximum capacity of 24 of string on the truck

o    2"- 4700m

o    1,75"-6200m

o    1.5" – 8500m
Additionally, some features have been added for security and efficiency.
A light system is provided with one searchlight for the injector and two portable floodlights for work area lighting.

Installation of video surveillance system with 3 cameras, recording device and monitor.

Foldable walkway with safety guard for easy and safe rig-up.
GOES GMBH INCREASES MANUFACTURING CAPACITY
In March 2015 GOES GmbH constructed a new welding facility to increase manufacturing capacity.
Benefits of the additional 1.200 square meter facility to the assembling process include:
Shorter distances between part storage and assembly line, leading to quicker production processes

Higher Quality Assurance, due to separation of the welding process

Improved HSE standards especially with the new state of the art extraction unit at each work place
GOES GMBH DELIVERS EQUIPMENT FOR TACROM SERVICES
Tacrom Services has just rolled out a new Piece of equipment to offer faster and more efficient small acid and frac treatments as well as sand control Jobs. The Gravel Pack Pumping Unit (GPPU) is multifunctional and highly maneuverable, eliminating unnecessary equipment and personnel.
Jobs that can be performed by this single unit:
Transfer and filter treatment fluids

Mix proppant slurries and treatment fluids

Add up to two liquid chemicals on the fly

High pressure pumping up to 650 liters per minute with a maximum pressure of 700 bars

Full Data acquisition capabilities for all pumping parameters
This is a unique design, built by GOES GmbH, and will dramatically reduce time and cost for our customers.