Wireline Units - Categories
Wireline Units can be manufactured in various configurations, therefore there not a standard way to categorize them. For example, Wireline Combi Units can be used as well for Slickline only, it depends on client request.
All our Slickline Units can run drums with 700mm outer diameter and because of this, one can categorize them as Slickline units, while one another can categorize them as Cased Hole Logging Units for up to 1/4″ cable.
We will use the below simplified system to cathegorize the Wireline Units that we are manufacturing in Celle, Germany, but please keep in mind that these can be customized as per client request! 
Two weeks ago our Wireline team from Celle finished the first GOES Offshore Wireline unit.
The second one was finished this week. Our customer Inwatec Combined B.V. from Netherlands owns both units.
8,5 ton offshore container frame

Dual drum Slickline / Wireline winch

High performance closed loop hydraulic drive

20" three sheave counter head

Digital ex-proof winch operator panel

Digital ex-proof back up depth panel

BOP / Wireline Valve control panel with hydraulic accumulators

Caterpillar C4.4 Diesel engine with 80 hp / 59 kW

Pyroban hazardous area engine modification (exhaust gas cooler with suitable engine water cooler, flame traps, air inlet shut down valve, over-speed shut down, low oil pressure shut down, cooling water temperature shut down, exhaust gas temperature shut down, anti-static belts, anti-static fan, etc.)

Ex-proof air starter system

Ex proof electric system

Insulated engine and operator section

Rig energy supply connection
The units are designed for cased hole slickline and wireline services on offshore platforms with max. 0.160 slickline wire or max 1/4 single conductor cable or braided line.
CE marking / Declaration of conformity ATEX 2014/34/EU directive (Zone 2) and 2006/42/EC machinery directive

DNVGL-ST-E271 offshore container certificate issued by Lloyd's Register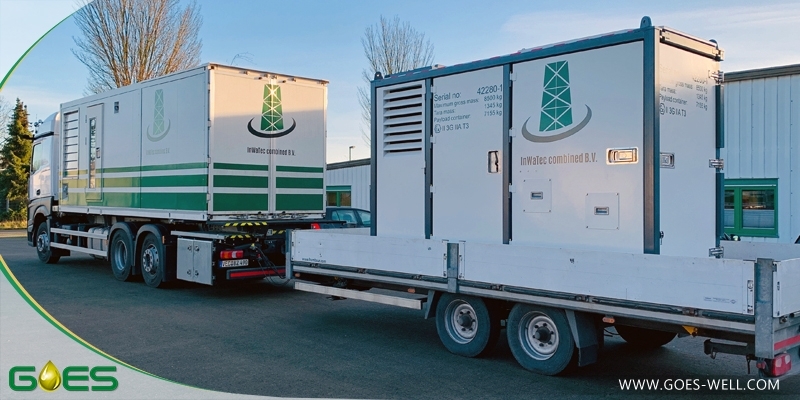 THE CLIENT CAN CHOSE A MORE DETAILED CLASIFICATION